By Julieanne Horsman
Australia's highest-earning racehorse of all time, Winx may have had a limited-edition beer can produced in her honour, but Inverell class 1 winner Military Duke and five-start maiden Bold Rush can top that. The retired racehorses have their very own ale.
"Thoroughbred Mosaic India Pale Ale is our ode to these very special horses and I'm sure it's going to be popular," Deepwater Brewing Owner Isaac Zietek says.
Military Duke and Bold Rush, who are now affectionately known as Duke and Duchess, are much-loved members of the Zietek family. Isaac had always liked horses, but never had any of his own until he got talking to one of his regular customers, Patrick Herde. Patrick owns and operates Ballyoch Horses, a horse-breaking and training facility also located in Deepwater. He partners with Team Thoroughbred NSW and Backtrack Youth Works to retrain retired racehorses for new careers off the track.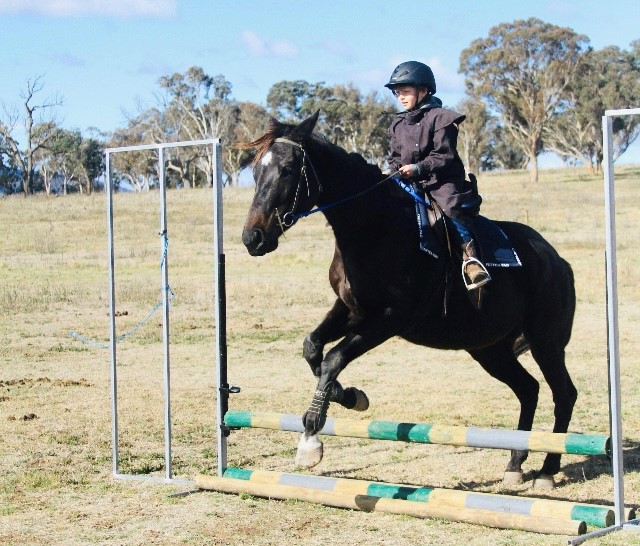 "I thought my son Atticus might enjoy learning to ride so I took him to a clinic at Ballyoch," Isaac said. "He absolutely loved it, so he continued with lessons."
Like most eight-year-olds, Atticus has no fear and it wasn't long before this brave little boy was fanging around the wide-open paddocks under the guidance of Ballyoch Trainer, Nora Eranpalo. With each lesson Dad Isaac felt the feeling of FOMO bubbling so he decided to join in.
"I hoped it would be a nice father and son bonding activity for us," Isaac said. "I didn't want to miss out on all the fun either!"
Isaac connected quickly with a lightly raced chestnut gelding named Military Duke and decided to take the exciting step of adopting him. They were willing to wait as long as necessary to find the perfect horse for Atticus and she came along a few months later in the form of a five-year-old mare named Bold Rush.
"She has been absolutely wonderful from the start," Isaac said. "Being a young mare, I thought she would have a lot more go in her, but she is just so calm and gentle with Atticus. He loves Duke too and calls him his big giraffe. He just has to talk to either horse and they do what he asks. They will stand still while you saddle them up. They're so comfortable with being handled."
Once a week Nora, who hails from Finland and has showjumped competitively around the world, comes to the Zietek house to ride with the family and give lessons. Atticus has taken to jumping like a duck to water and Bold Rush has picked it up quickly too.
"Pat and Nora chose really well for us as first-time owners and to have that ongoing support makes the experience that much better," Isaac said.
Isaac and Atticus spend as much time as possible riding around their property and are aiming to venture further afield as they get more confident. They're limited by the Covid Lockdown now, but they don't mind. They're just happy to have the horses around.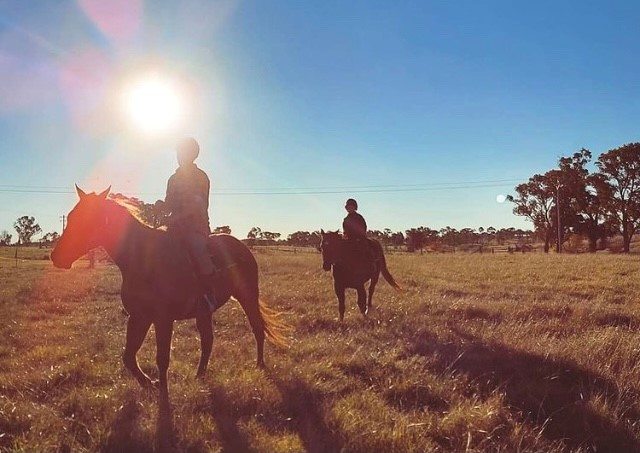 "I love how affectionate the horses have become," Isaac said. "They got to know us quickly and became very aware of where we are. If we are outside, the horses come straight over. They follow us around and put their heads on our shoulders. It's really special."
Both Duke and Duchess get their fair share of attention from visitors to Deepwater Brewing too. They are sometimes in the paddock next door to the brewery so customers can say hello and pat them over the fence.
"It was actually a customer who suggested we do a beer to honour the horses," Isaac said. "We already had a beer dedicated to our dog and he said we should do one for the horses as well. How could we not. They bring us so much joy."