As racehorses, Delectation and Delarthur couldn't have had more different careers. Delectation won a Group 1 and amassed more than $1.6million in prizemoney. Delarthur raced once, came last and didn't earn a cent. The unlikely pair have come together in retirement though. Both geldings got rails runs into life after racing when they were given to Team Thoroughbred to be retrained, and they hit the jackpot when they were adopted by Sue Small.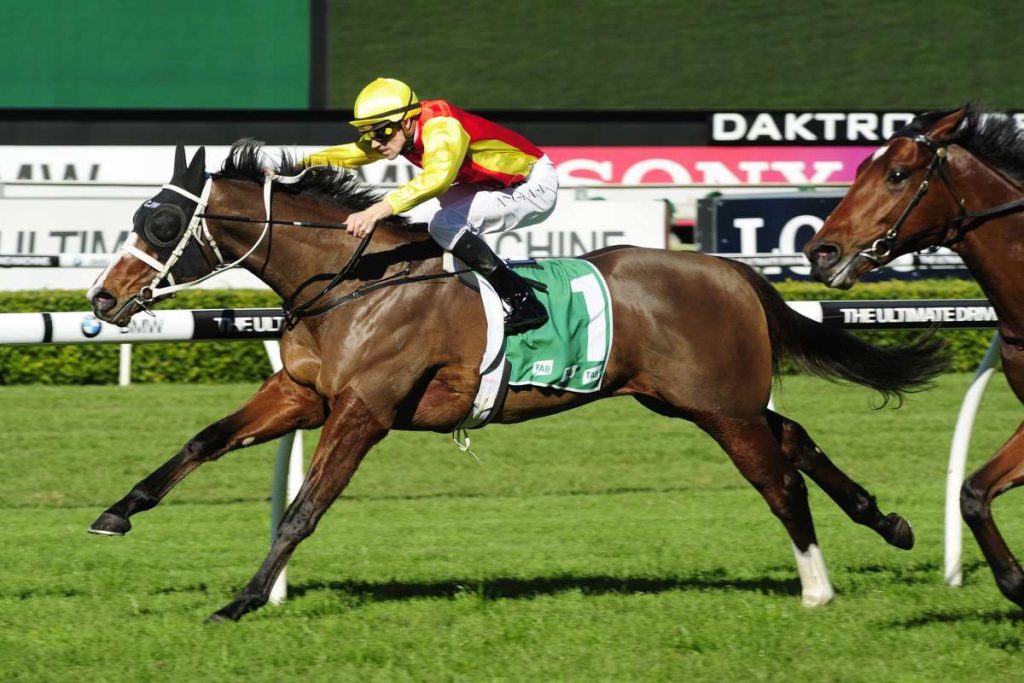 Sue has been a horsewoman her whole life. She grew up attending Pony Club with her brothers and was an accomplished showjumper by the time she reached high school. She took out back-to-back Australian Junior Showjumping Championships in 1984 and 1985 and won dozens of other titles across the country. She worked with horses after finishing school but when the recession hit the opportunities dried up and she trained as a registered nurse. Sue enjoyed that job for six years but the pull of horses was too strong and she eventually accepted a job at Edinburgh Park Stud at Taree. Among the highlights was preparing the yearling who would go on to become unbeaten, seven-time Group 1 winning racehorse, Silent Witness. From there Sue moved to Phalaris Stud at Rylstone where she met Jeff Brash, who now manages Team Thoroughbred's equine welfare farm at Capertee. She then worked as the broodmare manager at Woodlands Stud and as Jeff's foreman when he was a racehorse trainer before returning home to Wingham to look after her ageing parents. Sue became an equestrian coach, teaching at Pony Clubs around the mid north coast. She also hosts a jumping clinic once a month at Tarcoola and offers private lessons locally.
"I love teaching kids to be quietly confident and helping them realise how much fun jumping is when the horse and rider trust each other," she said. I know I have done my job when I see improvement and a big smile on the rider's face."
In August last year, Sue and her mother Kay went to visit Jeff at Capertee. She wasn't necessarily looking for a horse, but she couldn't walk past Delarthur who was in a paddock close to the homestead.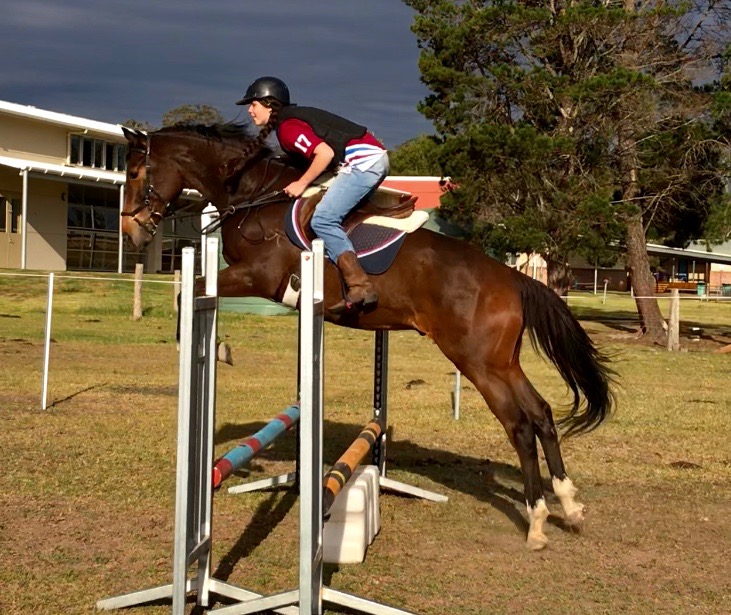 "He was a lovely type and had a kind eye," Sue said. "I took him for a ride, thought he was beautiful and that was that. I had to have him."
Once home, Sue took Delarthur on daily trail rides so they could get to know each other and relax. She gradually introduced more exercises and despite being only three-years-old, he took it all in his stride. It wasn't long before Sue entrusted one of her star students, 15-year-old Indi Fardell, to take Delarthur over some jumps.
"He has a nice movement and a natural aptitude for jumping," Sue said. "He's very laid back. I can understand why he didn't make it as a racehorse."
When Sue needed another jumping prospect a couple of months later, there was no question about where she would begin her search and Delectation joined her team at the end of Spring. Indi comes to the stables to ride both Dels after school and Sue's other students Kiara (18), Kaylee (15) and Harry (13) Green also have lessons on them and do everything from flatwork to grids to jumping.
"Harry especially is proud to be riding Delectation," Sue said. "He tells all his friends he rides a Group 1 winner who was trained by Winx's trainer. As soon as he says Winx the other kids' eyes light up. Everyone knows Winx. One day he came in and told me he had watched all of Delectation's race replays. He said he couldn't find much on Delarthur though!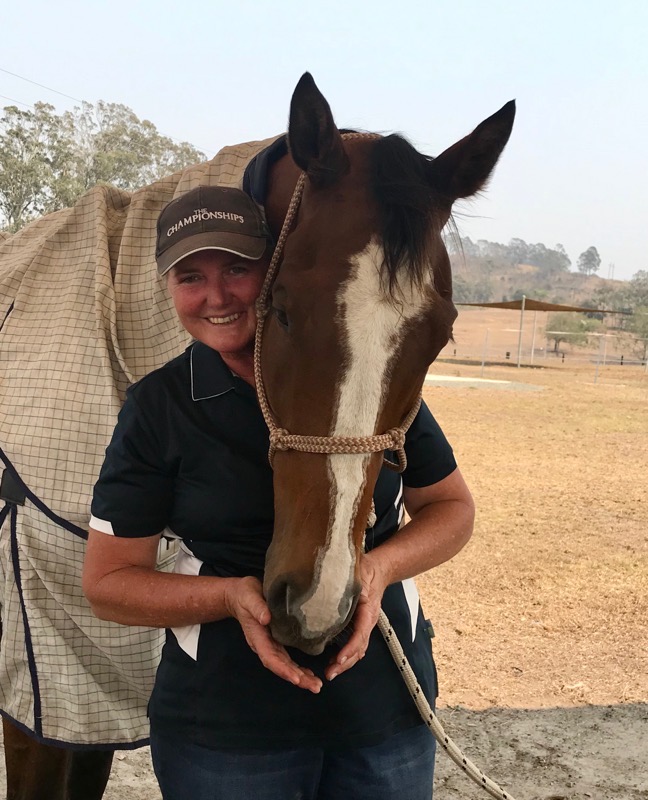 "It's funny, Delarthur has actually learned to run a bit faster since sharing a paddock with Delectation," Sue said. "At feed time Delectation is still first to the gate though!"
Sue's students have been wanting to take Delarthur and Delectation to some local showjumping competitions, but they have had a hard time finding one. First they were postponed due to the bushfires and smoke haze and then they were washed out.
"It's quite frustrating," Sue said. "We're hoping to get to Nabiac and Wingham Shows next month."
Delarthur and Delectation have also taken on new roles as guest teachers at Taree Christian College. The year 9 and 10 agriculture students have been learning horse care and handling and have been practising their skills on the Dels.
"They are both doing so well in everything they do and I have the utmost faith in them," Sue said. "Thoroughbreds are so versatile. A lot of my students have Thoroughbreds now, particularly the ones that are performing well in eventing. They have the stamina for cross country, the carefulness for showjumping and the movement for dressage.
"The main thing is people need to remember is horses need time," Sue said. "If you don't give them time to think about what you are teaching them, you will end up wishing you had."