By Julieanne Horsman
Thrill Ofthe Skill was bred for a life on the racetrack. Instead, the now seven-year-old mare is showing her versatility off it. Since being adopted by lifelong equestrian Diane Hickey, Thrill Ofthe Skill has become an important part of the 7th Light Horse Gundagai Troop and this month completed her greatest challenge so far.
Over the course of eight days, Thrill Ofthe Skill and Diane meandered their way from Narrandera to Wagga as part of the Riverina and Southwest Slopes Light Horse Association's Memorial Trek to commemorate 130years since the Emu plume was first added to the slouch hat. The trek was meant to be held in 2021 but Covid restrictions forced it to be rescheduled.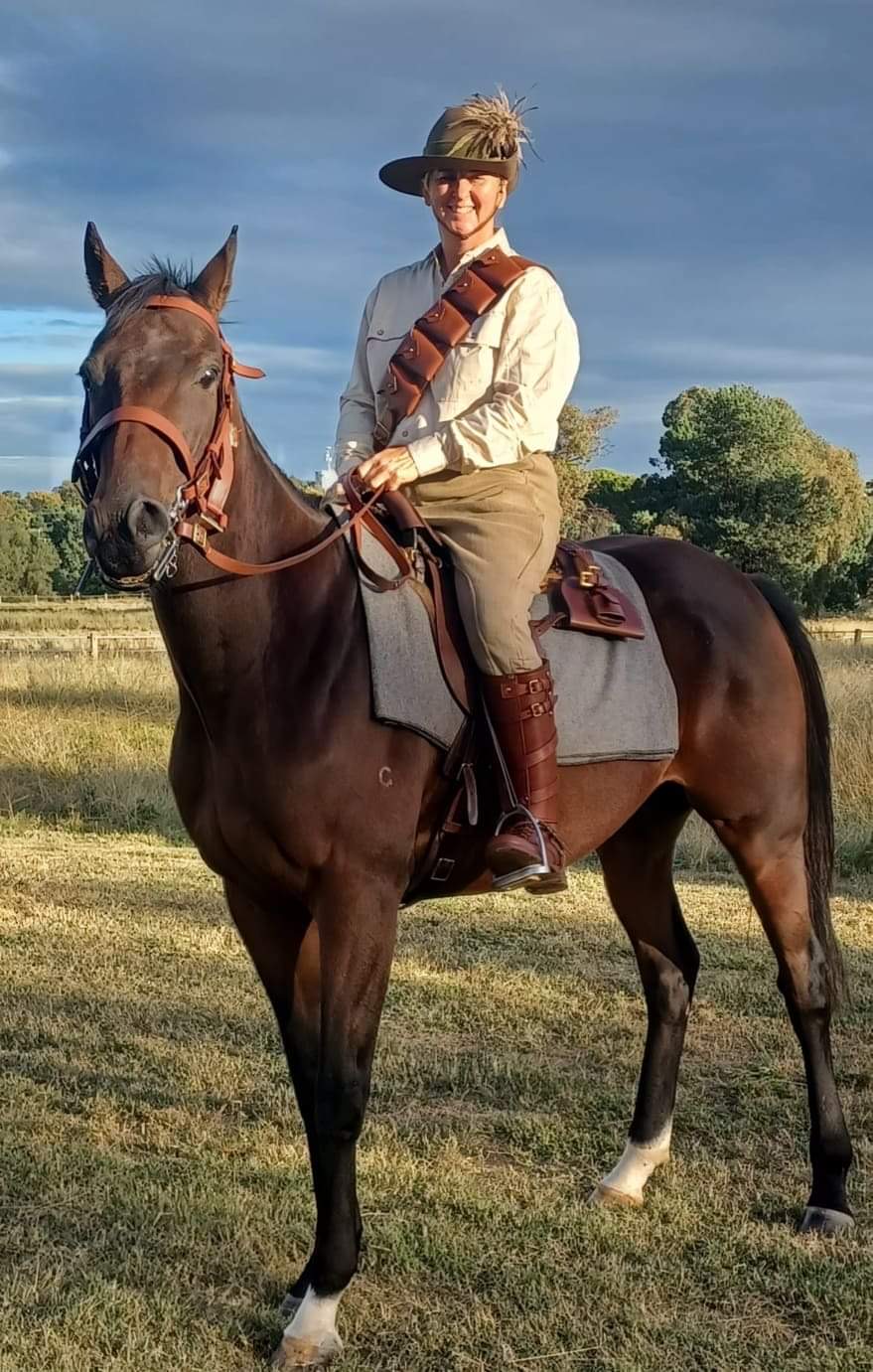 "As soon as I saw it advertised, I knew we had to be part of it," Diane, the Principal of Binda Public School, said. "I roped my husband into coming along with his horse and decked them out in all the gear."
Dressed in replicas of traditional World War I uniforms, the group of 14 riders and horses as well as a support crew covered 130km of ground, stopping off at small communities along the way. After a service at Narrandera where the troopers presented a slouch hat to the local RSL, they set out for Grong Grong 18kms away. The next day it was on to Matong where they visited the local public school to the delight of the young students.
"Seeing the kids' faces light up gave me such a buzz," Diane said. "They were asking questions about the uniforms and the horses. It's a great way for them to learn about the history of the Light Horse."
Each night the troop would build yards to contain their horses while they slept in swags or floats next to them. They would be up before the sun each morning to continue their journey, calling in to Ganmain, Coolamon, Marrar and Downside before finishing at North Wagga Pony Club.
"Due to covid restrictions we weren't allowed into any aged care facilities, but we did a "ride by" and formed a troop line outside Allawah Lodge at Coolamon and the residents came out onto the verandah and gave us a salute," Diane said. 
The group also collected donations along the way to help fund the construction of a bronze statue in Wagga's Victory Memorial Gardens as a permanent tribute to those who have served with Light Horse troops. The design will feature a Light Horseman and his mount rescuing another soldier and while some grants had already been secured for the project, the money raised by the trek went towards covering the shortfall.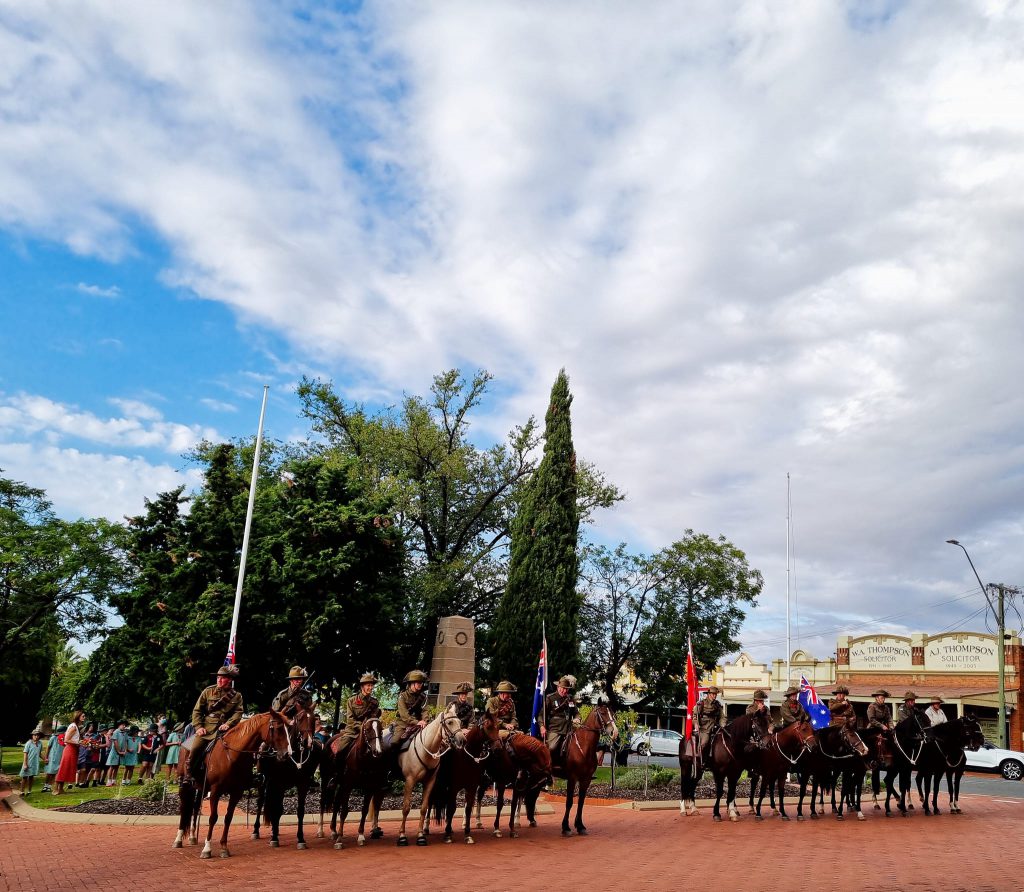 Once the ride was complete there was no time to rest, with attention turning to preparations and rehearsals for ANZAC Day. Diane and Thrill Of the Skill performed with the 7th Light Horse Gundagai Troop at Wagga's ANZAC Day Eve race day and again on ANZAC Day at services in Gundagai, Tumblong and Jugiong. Most of the horses in the troop are also off the track Thoroughbreds including Zarlu, Badraan, Aussie James, Hovell Street, Urbane Valour and Bang Bang.
"Thoroughbreds are highly intelligent and trainable," Diane said. "I'm very proud of what Thrill OftheSkill has achieved and how far she has come during her time with me.
"Being part of the 7th Light Horse Gundagai Troop gives you a chance to do something wonderful with your horse, regardless of age. Our youngest member is 9 and the oldest is 74. I'd encourage anyone who wants to get involved to get in touch via our facebook page."
Diane has long been passionate about the Thoroughbred breed with her family involved in racing. Her previous mount, Mistress Jaye, was bred by Gerry Harvey, part-owned by her brother-in-law and trained by Kris Lees then Bernie Kelly. They competed in dressage and showing together, rode part of the Bicentennial Trail and Diane's daughter even took her to Pony Club State Show Riding where they picked up a blue ribbon. Mistress Jaye has recently been retired from competitions due to her age but still lives with Diane at her home near Gunning.
Diane adopted Thrill Of the Skill, now known as "Hillary," directly from Albury trainer Rob Wellington after being drawn to her kind eye and laidback temperament. She immediately began schooling her as a dressage mount under the guidance of coach Helena Warren, before progressing into Light Horse training about 12 months ago.
"The horse is a testament to her trainer," Diane said. "She's a pleasure to handle and do anything with. My husband has two other ex-racing mares from the stable. We just love them!"