By Julieanne Horsman
When horses have been a part of your life for a long time, it is easy to take them for granted. But for underprivileged youths from the suburban fringes of Sydney, the tickle of a horse gobbling up a carrot from their palm or the comfort of a soft, warm muzzle against their cheek is something they can only dream of. Team Thoroughbred NSW is out to change that with the Wanyuwa program.
Run in partnership with renowned Aboriginal service provider KARI Foundation, Wanyuwa aims to give young people an introduction to horses, a taste of the wide variety of career opportunities on offer in the racing industry and an overview of the study options available through Team Thoroughbred NSW Training Academy, all in a safe and caring environment.
"There are hundreds of different jobs within the Thoroughbred racing industry that can take you across the country and around the world, but you can't chase these opportunities if you don't know they are there," Team Thoroughbred NSW Rehoming Co-ordinator LaToyah James said. "Sometimes all it takes is a single pat to ignite a passion for life and we are eager to facilitate that."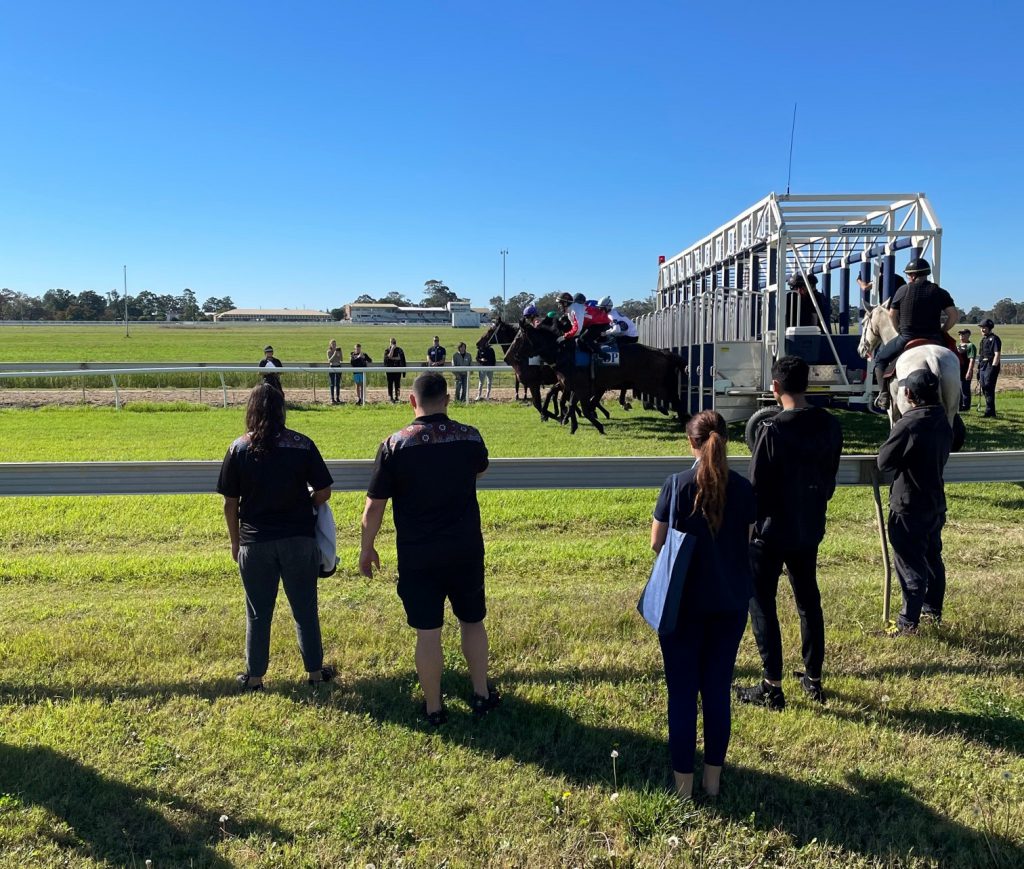 Nine brave participants aged between 16 and 22 signed up for the first session of Wanyuwa. Some had never even touched a horse before but were keen to make the most of the opportunity to learn and discover. Supported by five KARI mentors, the first stop was Hawkesbury Racecourse for a behind-the-scenes look at the trials.
On arrival the group was greeted by LaToyah James and Team Thoroughbred NSW Training Academy's Workplace Trainer and Assessor, Daniel Power who gave an overview of a career as a stablehand, trackwork rider or jockey. They were then driven out onto the track and took up prime position next to the barriers. The participants watched intently as the horses were loaded in and delighted in the excitement as they took off.
"For someone who is fit, agile and enjoys working outdoors, a career as a stablehand or barrier attendant could be highly appealing," Miss James said.
Next up was a look inside a horse transport truck, followed by a tour of the race day stalls and a chat with some jockeys and stablehands. Then it was off to Bart's Farm at nearby Castlereagh to learn about equine welfare and life after racing.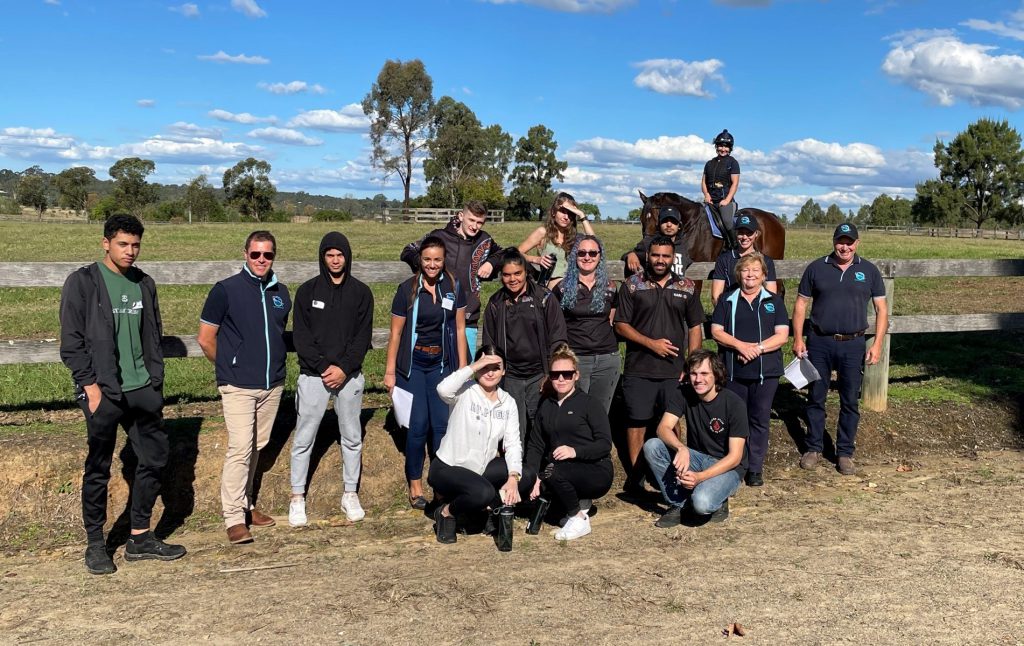 Racing NSW operates a world-leading equine welfare program which includes providing a safety net for retired NSW racehorses and Thoroughbreds who didn't make the track to ensure they always have a quality home to go to. They are cared for, retrained and rehomed at several farms across the state and Bart's Farm is the Sydney facility.
The Wanyuwa group watched a lunging and riding demonstration, learned about the rehoming process, picked up tack used for training and riding horses, heard stories about the legendary Bart Cummings and went on a walking tour of Bart's Farm but the magic happened when it came time to feed the horses. Kilograms of carrots and apples were handed out, participants picked their favourite horse and gingerly offered up the treats. Some were a little hesitant at first but within minutes there were smiles and pats all around.
"Seeing their faces light up as they interacted positively with the horses really made my day," Miss James said.
At the end of the day, everyone received certificates and four of the participants indicated they would like to take the next step towards a career with horses.
"My Favourite thing was going to Bart's Farm and looking at how they treat the retired racehorses, and how they set them up for their next homes," participant Jazmine O'Rourke said.
"I loved getting the opportunity to feed the horses," participant Luke Wooden said.
"It was Interesting learning all the employment opportunities in the racing industry, the horse's life in racing and what happens after racing at Bart's farm. The information provided by the racing staff was also very interesting," participant Chris Jones Cerssiman said.
"I really enjoyed getting to know the horses' routine and their day to day activities," participant Maya-Rose Kinder said.
The group chatted under the big old Jacaranda trees until it was time to go, and as the minibus drove out the gates, the Team Thoroughbred staff felt a little pang of sadness. They had an unforgettable day sharing their passion with the Wanyuwa program and hoped they would see the participants again.
"Ultimately our goal is to guide anyone who is interested into a fulfilling career but even if they just had a good time with the horses, we're more than happy with that."