By Julieanne Horsman
Saying goodbye to a racehorse who had tried his heart out in 101 starts was never going to be easy for Gulgong trainer Brett Thompson. Especially one as sentimentally significant as Hewentwhoosh. The Dane Shadow x Zebithea gelding was the first Thoroughbred he chose and bought himself and kickstarted his career as a trainer.
"I was at the Scone Inglis sales and spotted this athletic little horse who walked really well," Thompson said. "I got him for only $4500 and said to my son don't tell mum we bought another horse!"
Thompson's eldest son Ben broke the horse in, and youngest son Jay came up with his name. Hewentwhoosh ran his first race under Brett's father James Thompson's banner, before being transferred into Brett's stable. Over the eight years that followed, Hewentwhoosh won 14 races, notched 30 places and earned almost $300,000 in prizemoney. He claimed the 2009 Inglis 2YO Challenge and contributed to Thompson winning five Central Districts Training Premierships in a row and being named NSW Country Trainer of the year in 2016.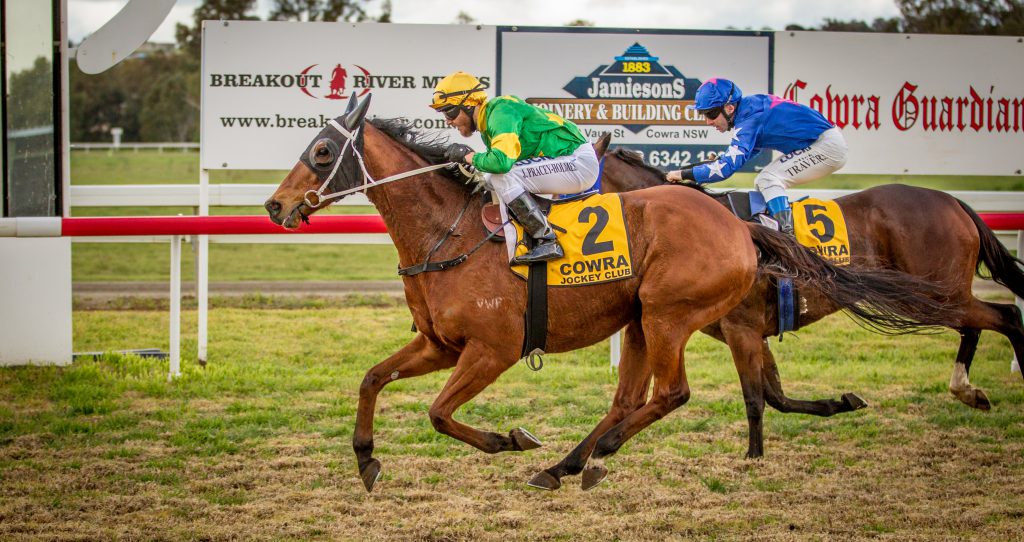 "John O'Shea actually tried to buy him at one point, but we had all fallen in love with him and wanted to continue to enjoy the ride," Thompson said.
When the time came time to retire Hewentwhoosh in December 2016, Thompson couldn't imagine parting with him. So he didn't. He kept the gelding at home as a nanny for his weanlings but as the years went by, he felt compelled to give the horse a chance at a second career.
"I hate seeing horses standing in the paddock going to waste," Thompson said. "Most of them like to have a job, they like to have a routine, so I asked one of my staff members, Elizabeth Theobald, to get him going."
Elizabeth, an accomplished horsewoman in her own right, noted Hewentwhoosh's potential as a sport horse but between work and her own horses, she didn't have enough time to dedicate to helping him reach it. Then her friend, former jockey and talented showjumper Aimee Taylor, came to Gulgong for a visit.
"Elizabeth and Brett said to me we've got this great little horse who is going to make a jumper and we only want him to go to the best of homes," Taylor said. "I had a ride on him, Elizabeth jumped him for me and I said yes, I will take him."
Aimee's partner, 2020 Group 1 Doncaster-winning jockey James Innes Junior, had been apprenticed to Thompson early in his career and had ridden Hewentwhoosh in trackwork, but by all accounts the horse was a little difficult to handle back then.
"He would try it on with all the apprentices," Thompson said. "Jimmy would hate me when I put him on."
Like Brett did more than twelve years earlier, Aimee had to sneak Hewentwhoosh home and hope her partner wouldn't notice.
"James had gone to Queensland to ride in the Stradbroke so it was good timing," Taylor said with a laugh. "I've had to sneak the last few horses home while he wasn't there!"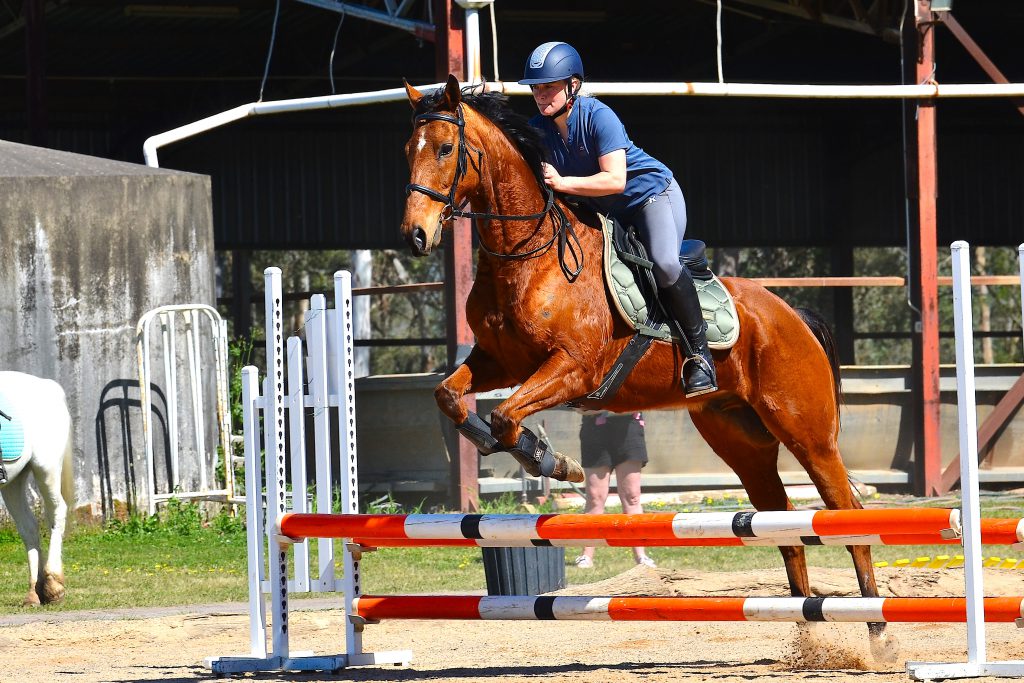 Aimee continued Hewentwhoosh's retraining and was impressed by how quick and willing he was to learn. Just a few months later they were taking part in the Christine Bates One Day Event.
"It was only his second time out and I was so happy with how he went," Taylor said. "We came fourth overall. Showjumping is definitely his strongest discipline. When he gets on the cross country course he remembers he was a racehorse and wants to go fast. He's got a lot to learn but has a sweet nature and is always improving. I'm looking forward to seeing how far he can go."
Aimee keeps in regular contact with Brett, Elizabeth and Hewentwhoosh's previous owners, sending them updates and pictures.
"I love getting the updates and it makes me so happy and proud to see him doing well off the track," Thompson said. "Saying goodbye to him was hard but I know he's gone to a good home. We put a lot of effort into rehoming our retired racehorses. We're all horse people and we love our horses."
Aimee recently took on retired Tim Martin-trained gelding Pride Of Darci and also has former Pat Webster-trained gelding Shark Tank who she adopted in 2017 and retrained as a showjumper. It was love at first sight when she spotted the big bay in the parade ring at Newcastle races.
"I literally turned to Jimmy and said stop, look at him," Taylor said. "I made him go back in and ask if I could have him when he retired from racing. It was the best decision. Shark Tank is such a good allrounder. He's great with my kids too."
Aimee enjoyed success as a jockey in her native New Zealand, China and Australia before taking time out to have her two children. She was determined to bounce back and incredibly returned to riding trackwork just one month after giving birth to her first son, Carter. She had her second son Asher in April this year and again returned to riding trackwork and showjumping quickly. She acknowledges she wouldn't be able to do it without the support of her friends.
"I'm really lucky to have good support around me, especially Sophie Brooks," Taylor said. "She helps with saddling and holds the kids. It makes a huge difference. Christine Bates is really accommodating when we have lessons too.
"It's so nice to be able to do a bit more showjumping and eventing now. It all took a back seat when I was travelling a lot as a jockey."
This story was first published in Racing NSW Magazine.