By Julieanne Horsman
Ping! Kate Clancy's phone lit up with a facebook notification. One of her friends had tagged her in a post about an exciting new competition where talented horsewomen are given 100 days to transform a racehorse into a ranch horse. It sounded right up her alley and she was immediately interested. Ping! Another tag in the same post came through from a different friend who also knew Kate would be up to the challenge.
"There were two things that immediately stood out to me," Kate said. "One, it's for Thoroughbreds and I've always been a huge fan of the breed and two, it's a 100-day challenge. It's still not a great deal of time but it's a lot longer than I normally have to prepare horses."
Kate applied for the Race To Ranch Challenge at Cowgirls Gathering and was delighted when she was chosen as one of just ten finalists from across Australia. With her participation confirmed, Kate's first task was to secure a horse to compete.
"I had to find a Thoroughbred that had raced in the past six months," she said. "One of the other New South Wales representatives, Katie Tullia, actually suggested I contact Team Thoroughbred NSW. I knew of the organisation through social media but had a deeper look and got in touch."
Team Thoroughbred NSW's Rehoming Coordinator, LaToyah James, got straight to work poring over horse profiles to find the perfect match for Kate. There were several quality prospects but only one who had raced in the past six months – Wingman. The then three-year-old Deep Field x Fairies gelding had never even managed a place on the track, but he was well-built, easy to handle and enjoyed human interaction.
"I really liked the fact he was a young horse," Kate said. "I enjoy working with young horses because they are supple in the mind."
Wingman was loaded onto the transport truck bound for Gunnedah where he was met by Kate who then transferred him onto her truck for the remainder of the journey to her farm at Narrabri. He travelled well and was so calm when he arrived that Kate couldn't resist doing exactly what she teaches everyone else not to – have a ride straight away.
"He was just so chilled, so I did some groundwork, made sure he was listening and jumped on," Kate said sheepishly. "We just did a walk, trot and canter left and right. Wingman had a general confidence. I could tell he had been well-handled and well-travelled. That's one of many things to love about the Thoroughbred breed. Generally, they have been handled from a young age in preparation for the sales."
As a professional horse trainer, breaker and entertainer, Kate began preparing Wingman in the same way she would a Stock Horse or show horse, working on lateral flexion, counter-bending, leg-yielding and collection. He breezed through that, hit all the base markers, and earned himself his first outing.
"I took him to Texas Star for a training day," Kate said. "He had his first look at some buffalo, cows and a mechanical cow. He was so brave. Back home we had him towing poles and every time he wanted to get away from it, I made him walk over it and that gave him the confidence to continue towing it behind him."
The real test will come on 1st October 2021 when the Race To Ranch Challenge gets underway at Cowgirls Gathering in Kilkivan, Queensland. Over three days, Kate and Wingman will participate in Western Trail, Working Cow Horse and Freestyle sections.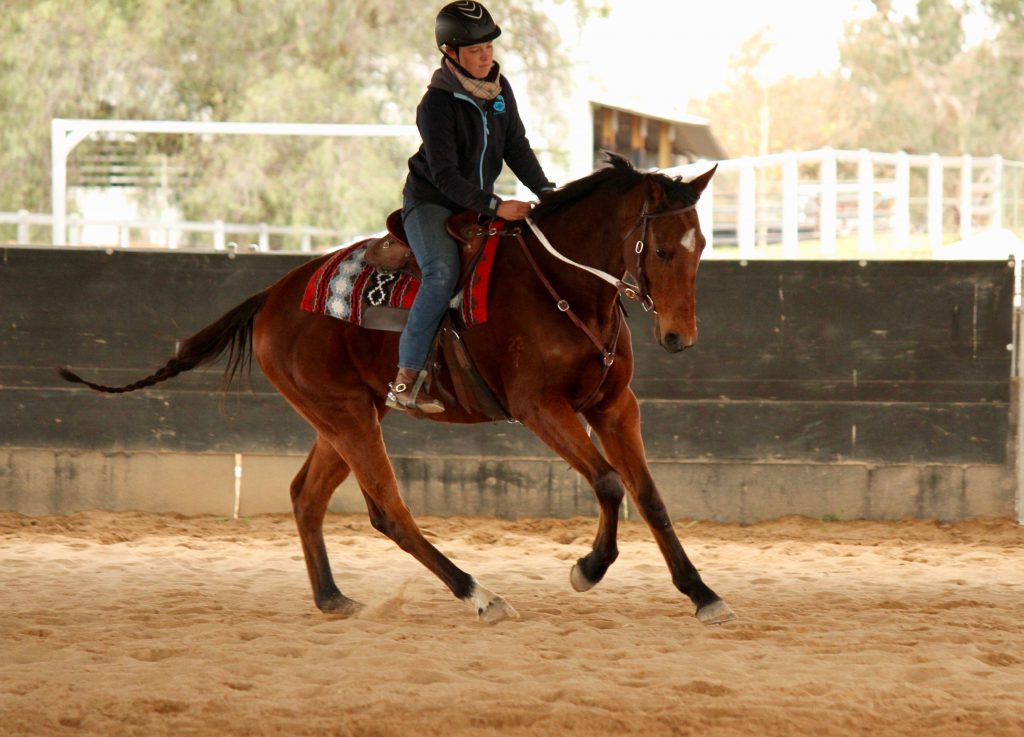 "I'm feeling pretty good about where we are but I'm just happy to be involved in this initiative," Kate said. "I want to use the experience to help people recognise the Thoroughbred breed outside of racing. My Mum has had a stroke which has knocked her around, but she is often out there grooming Wingman and leading him around. He's a big horse but not once has she felt intimidated and that speaks volumes."
The trip is going to have to be a quick one though with Kate needing to get back to Narrabri to continue working with her other horses. As if that wasn't enough, she is also planning her wedding.
"I will be coming home with a smile on my face regardless of the outcome," she said.
While Kate began riding horses at a young age and has fond memories of fanging her Quarab pony Keira bareback around the bush behind Morisset Hospital, she didn't start competing until she was 18. Straight out of school she worked at Middlebrook Valley Lodge and Middlebrook Station and it was when she went to study at Tocal Agricultural College she realised working with horses was her true calling.
"I knew then horsemanship was something I wanted to master and began applying everything I was learning on my Thoroughbred mare, La Cugina," Kate said. "She knows all the tricks and I still have her today.
"I would like to continue educating Wingman beyond Race To Ranch. I want to find out what he is supposed to do, be it Pony Club, eventing or making him a Show Hunter, and give him a solid base to set him up for success off the track. Although I've got half a mind to keep him for myself!"