Cruising around the 75cm course at Sydney Showjumping Club, there was little to suggest it was only Snippets Of Rain's second outing. Talented equestrienne Stephanie Laraud adopted the five-year-old retired racehorse from Team Thoroughbred NSW in May and he has excelled in his retraining, prompting her to put him to the test.
"I couldn't be happier with his performance," Stephanie said. "He was calm and focussed. There were sheep in the paddock next to the arena and this distracted some horses but he didn't even look at them."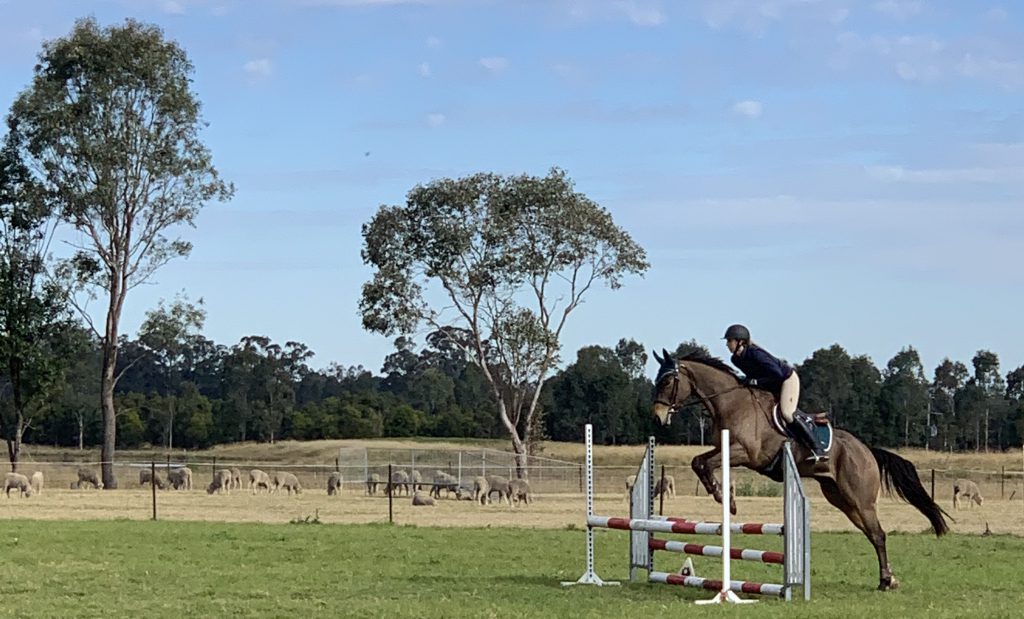 The pair went clear in the second round and Stephanie left the arena beaming from ear to ear.
"He has a really good jump and always tries hard to please," she said. "Given his age, you have to ask him properly. With young horses, you can't really make a mistake with your hands as they are not in a position to help you out while they are learning themselves. He is very promising though."
It was a different story on the track. As a racehorse Snippets Of Rain had fourteen starts for a modest record of one second and two thirds. Muswellbrook-based trainer Todd Howlett called curtains on his racing career in September 2019 after running a long last at Bowraville. Snippets of Rain was retired to Team Thoroughbred's Sydney facility, Bart's Farm, where he immediately caught the eye of retrainer Charlie Brister.
"He was a little green but had a good attitude from the start," Charlie said. "He was straightforward to jump and had a big heart."
Stephanie had owned Thoroughbreds before but was looking for her first project horse to retrain with the guidance of her coach, Sandra Tremier from Tic Toc Equestrian. A mutual friend recommended she look at Team Thoroughbred, having bought a horse from the program herself.
"Working in the racing industry I know there are many horses looking for good homes and I wanted to help," Stephanie said. "Thoroughbreds have so much to give and I am enjoying the challenge of retraining one."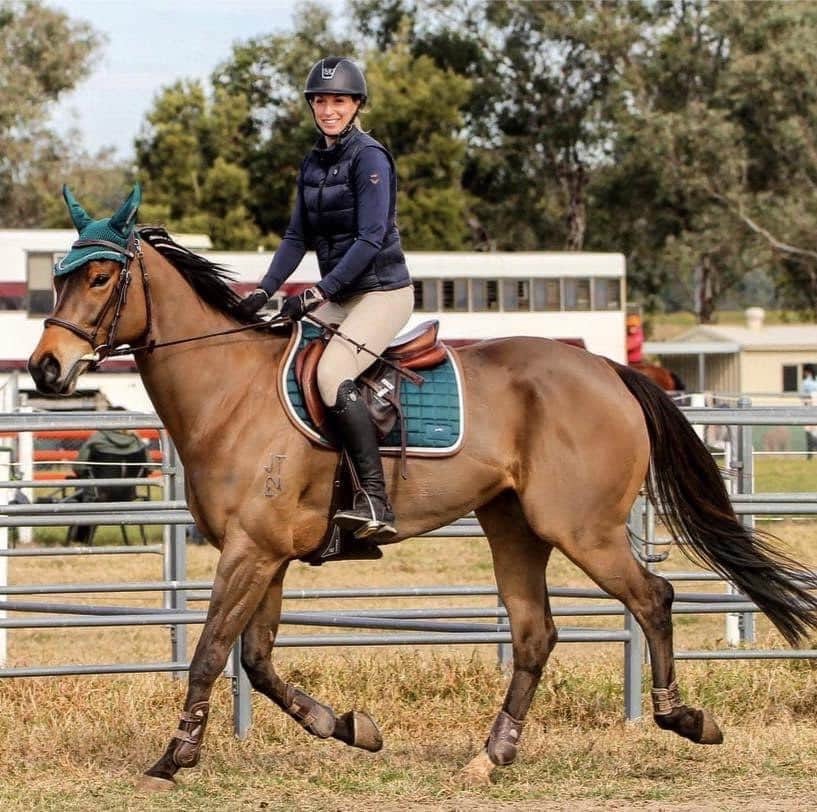 Initially, a talented jumping mare named Dashing Hollie was recommended for Stephanie but when she rode her at Bart's Farm they didn't really click. She then rode Snippets Of Rain and knew he was the one for her.
"I liked the look of him, I tried him and within ten minutes I made the decision to buy him," she said. "He was so calm and willing. I tried him over cross rails and he just did it."
Stephanie came to Australia from France six years ago. Back home she is a criminal lawyer but her qualifications aren't fully recognised down under so she followed her passion to Chris Waller's Rosehill Gardens stables and became a trackwork rider and stable hand. While Stephanie works with horses daily, she says it is different when it's your own.
"Jumping is a completely different sort of adrenaline to riding fast work," Stephanie said. "It's like you're flying. When I go to see my horse it is like I am going to see my best friend. I never get tired of him. He fills me with energy."
Over the next couple of weeks Stephanie plans to step Snippets Of Rain up to 85 and 95cm jumps and within a year hopes to be jumping 1.10m nicely.
"Twelve months is a long time for young horses but he's already so good," Stephanie said. "The only thing I can hope for him is to remain consistent. We all want to go and jump bigger so I will try and increase his strength. I would like to see him lift his back legs a bit more. He can be a bit lazy at the moment. He's good with the front."