As the old saying goes, when you're onto a good thing stick to it. For some, it's buying a pair of their favourite shoes in every colour. For others, it's swinging past the same café for their daily caffeine hit. For talented horsewoman Elaine Robl, it's finding a special off the track Thoroughbred and adopting all of his brothers as well.
It was a slow racehorse named Jade Crusader who ignited Elaine's passion for Fantakan progeny. While riding trackwork at Warwick Farm, she began schooling the gelding in showjumping in an effort to get the best out of him at the races. She even rode him at Berrima Hunter Trials while in full work to try and fire him up but the best he ever finished was 6th. He ran his last race at Goulburn in July 2014 and Elaine brought him home later that year.
Elaine's then 10-year-old daughter Hayley needed a new mount for Pony Club and asked if she could have Jade Crusader. Understandably, Elaine was a little hesitant as the horse was only four at the time, but after making sure he was safe she let Hayley have a ride. They clicked straight away and from that moment Jade Crusader was Hayley's.
Apart from having a nice temperament, there were no signs to suggest Jade Crusader was anything special or that he would one day easily jump 1.5m. He was a bit clumsy and another person who had also ridden the horse in trackwork said he would never jump competitively.
Jade Crusader and Hayley won their first event at Berrima Horse Trials and the achievements and ribbons kept coming year after year. In June 2019 they won their first 1* event – a competition incorporating dressage, showjumping up to 1.15m and cross country with jumps up to 1.10m. Next was a third place in 1* eventing at Interschools Nationals, followed by a first in the 120cm Thoroughbred class at the Sydney Showjumping Club Championships, first in 1* at Oxley Horse Trials and Champion Child's Thoroughbred and Reserve Champion Allrounder at the Thoroughbred Spring Fair. They were also declared the unofficial bareback high jump champions at Franklin Street Stables in Matraville after clearing 1.4m.
"The higher the jumps were, the better Jade Crusader performed," Elaine said. "He always tries his heart out and is so eager to please. Every time we raise the bar he literally leaps over it."
As Hayley was considering stepping up to 2* eventing, Bruce Cross was considering the racing future of Jade Crusader's half-brother, Adaboycharlie. He won at his second start and showed plenty of promise, but hadn't saluted in the two years since.
"I said to Bruce I'll have that one too," Elaine said. "I took Hayley to the stables to meet Adaboycharlie and she just loved him straight away. He was really cuddly and lapped up affection."
Despite Elaine's interest, Bruce's granddaughter Maddy initially took Adaboycharlie, but when she started studying for her HSC she was too busy and he ended up joining Elaine's stable in March this year.
While Adaboycharlie is the youngest of Fantakan's three sons, Beauty Best was the most successful on the track and the last to be adopted by Elaine. The gelding won his first three starts for Bruce Cross before being exported to Hong Kong. He returned to Australia two years later and notched a win and several places for Tamworth trainer Melanie O'Gorman before she called time on his career.
"I had my eye on him for a while," Elaine said. "Melanie does breaking and pre-training for Peter (Robl, Elaine's husband) so I contacted her and asked if I could have Beauty Best when he retired. He was here five weeks after his last race."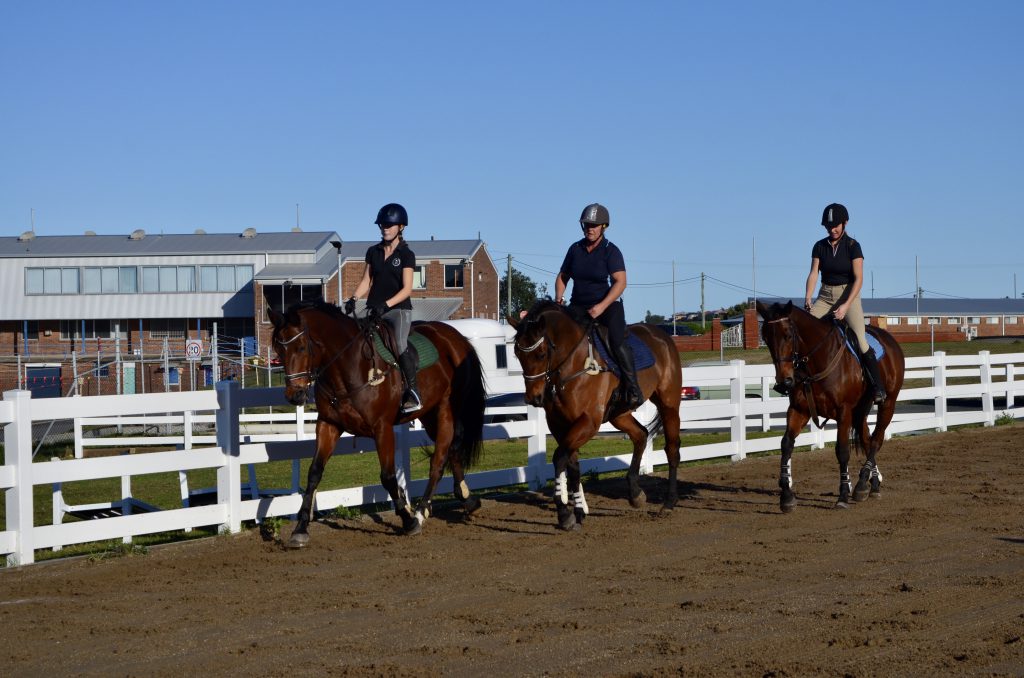 Elaine and Hayley worked Jade Crusader, Adaboycharlie and Beauty Best together as much as they could. Their friend Emma McGuigan would often help out and developed a soft spot for Adaboycharlie. Emma was getting back into riding after a few years off and looking for a new horse. Elaine and Hayley agreed they didn't have enough time to give all their horses the attention they deserved so they sold Adaboycharlie to Emma. All three horses still live together at Franklin Street Stables and are a source of entertainment for anyone who looks their way.
"They're like the three stooges," Elaine said. "There's the two funny ones and the serious one. That's Beauty Best. They have their own personalities but if you watch them for long enough you can see similarities in their behaviour."
Elaine is full of praise for the three horses but she says they have a common annoying habit.
"They've been a dream to retrain and are naturally talented jumpers but they can't resist chewing everything and throwing their buckets around," she said. "We can't feed them on the ground or the bucket will be upside down in a second."
Despite Covid-19 halted competitions and disrupted training for most equestrians, Hayley is still on track to represent Randwick Girls High School in 2* Eventing at State Interschools this month. She placed third in 1* at the same competition last year and is hoping for another podium finish. Emma is continuing Adaboycharlie's education and is set to take him to his first eventing competition in Spring and Beauty Best isn't far off making his showjumping debut either.
The horses' former trainer Bruce Cross enjoys following their progress and comes out to cheer Jade Crusader and Hayley on when time permits.
"Credit has to go to Elaine," Bruce said. "She has done an outstanding job with those horses. I would have liked them to be a bit faster on the track but I am happy they have a good home."
While there are no more Fanatkans coming through the grades, Hayley is devoted to the bloodlines and has already put dibs on the mare's sister's daughter's three-year-old colt when he retires.