By Julieanne Horsman
Leaning against the fence at the side of the course, a group of proud owners crane their necks towards their horse as she approaches the starting point.
"She looks fit, doesn't she," one says. "I hope she goes well," says another.
This isn't a racing syndicate, although the entire group is made up of racehorse owners. They're part of the Gai Waterhouse and Adrian Bott initiative, Own After Racing.  OAR, for short, is the concept of talented equestrians Nelson Smyth and Jessica Bott who both grew up competing on Thoroughbreds. OAR members support retired racehorses in their retraining and get to go along and watch them compete in their new careers off the track.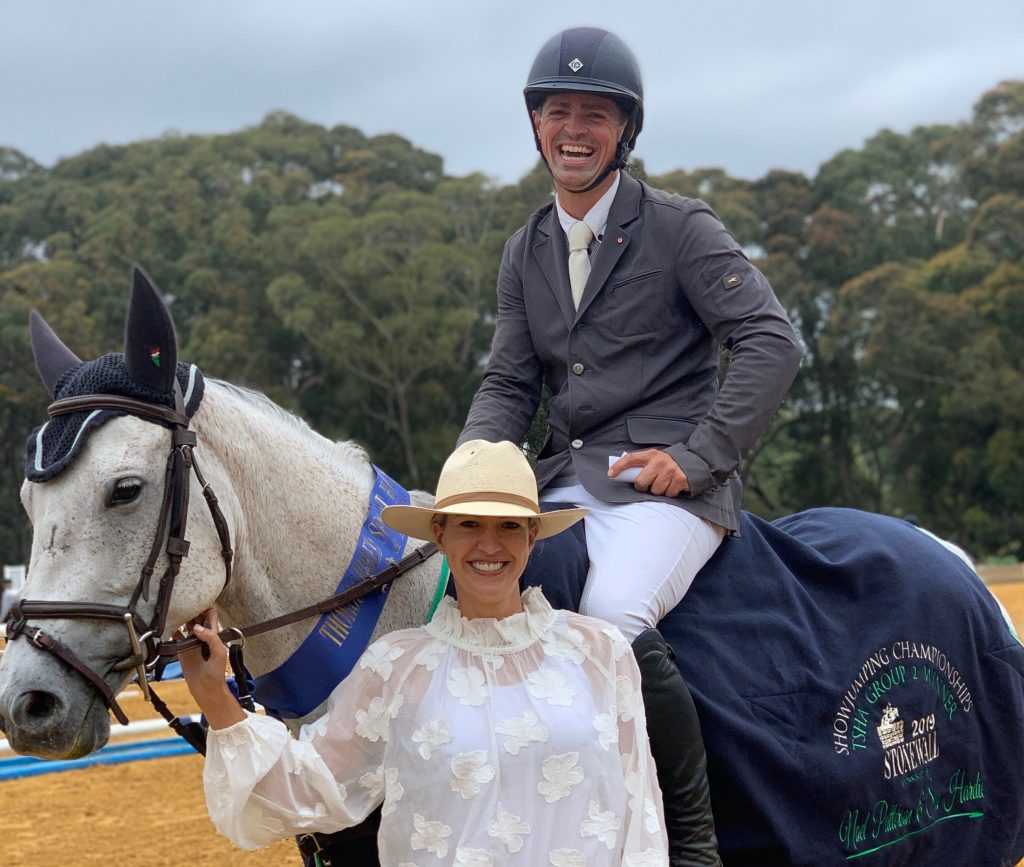 "We wanted to create opportunities for racing fans to be involved with Thoroughbreds long after they have run their last race," Jessica said. "It provides good outcomes for the horses and a fun and unique social event for the owners," Nelson added.
Having already had a positive experience with Racing NSW's equine welfare and rehoming division, Team Thoroughbred NSW, Jessica and Nelson again turned to the program to source their first retired racehorses for OAR. In 2018 Jessica adopted three retired racehorses from Team Thoroughbred NSW, including former Phillip Sweeney-trained mare Raise An Angel, who is now a competitive showjumper.
"I think it's important to support the industry's rehoming program wherever we can," Jessica said.
The first two horses chosen were unraced grey mare Pexian and former Tracey Bartley galloper, Arrossire. Jessica and Nelson picked them from the herd at Bandanora, Racing NSW's 2600acre equine welfare property at Capertee.
"We look for physically and mentally sound horses," Nelson said. "It can be hard to pick from the paddock, but we know we get an honest assessment of each horse, including its veterinary history, when buying them from Team Thoroughbred NSW."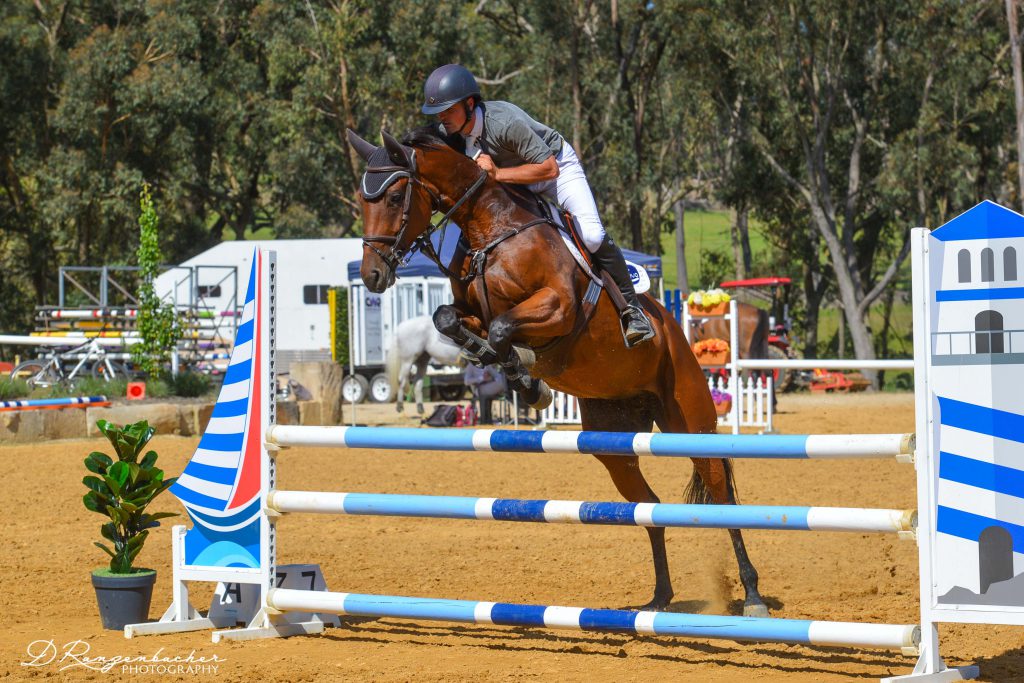 OAR is operated out of a leased 60-acre property at Somersby on the Central Coast. All Thoroughbreds coming into the program are given time to settle in before beginning their training. Nelson's sister Libby, another accomplished equestrian, helps with the riding, as do some of Gai and Adrian's stable staff members. The horses are educated from square one, as you would a breaker. Rather than turning them over quickly, the focus is on providing solid training.
"We aim to produce quality horses for showjumping which will in turn improve the profile of the breed in that sport," Jessica said. "You can get real value for money from Thoroughbreds, but you need to put the time and effort in to train them properly," Nelson added. "A Thoroughbred doesn't have to be a good racehorse to be a good sport horse either."
As part of their re-education, the horses are taken out to competitions and shows. Stonewall Equestrian, owned and operated by Krissy and Heath Harris, is just up the road from OAR's base and boasts state of the art facilities in beautiful surrounds.
"Stonewall is the type of place where you want to bring clients," Jessica said. "Krissy's competitions are always well run, and the atmosphere is relaxed and friendly. She gets owners involved in the presentation of rugs to winners. Some of the OAR owners ended up sponsoring Stonewall events because they had such a great time."
The OAR horses seem to enjoy it as well. In their first 70cm showjumping class at Stonewall Equestrian, Arrossire came 3rd, Pexian 4th and jockey Rachael Murray, who was the first female to ride 100 winners in a season, came 5th on her off the track Thoroughbred, Mr Pumblechook.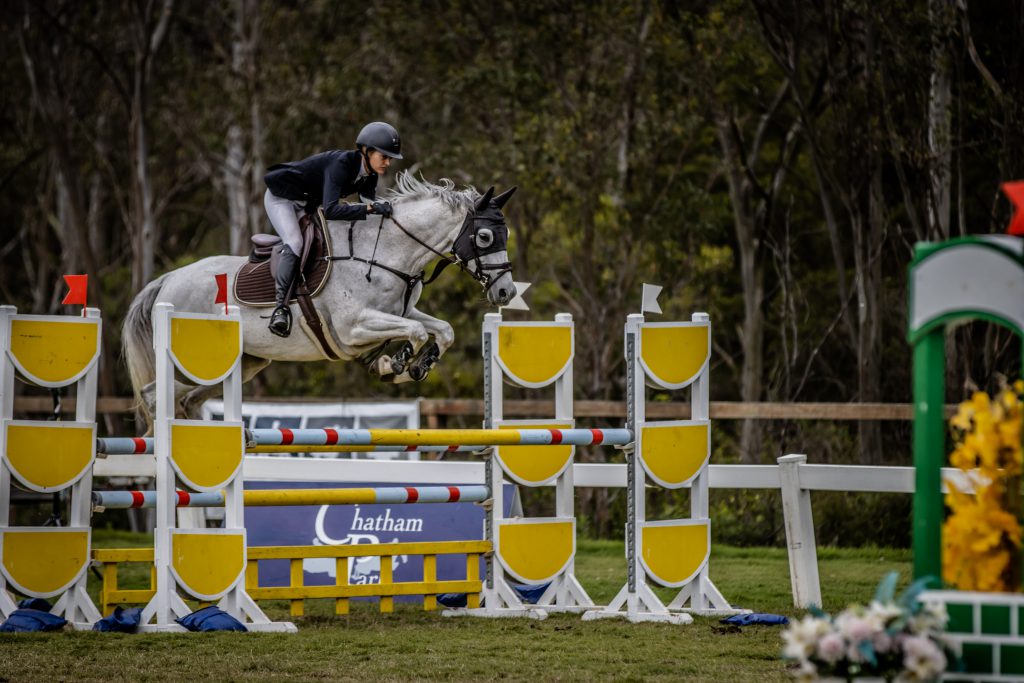 "There are a lot of racing people who are also involved in equestrian disciplines, especially jockeys," Jessica said. "Rachael, Kathy (O'Hara) and Jeff Penza are often out and about."
Gai and Adrian are also very supportive of OAR and come out and watch the horses in action whenever they can.
"Adrian came to Stonewall one day and saw Chris Waller had his name on a jump so next thing Adrian is sponsoring a jump too," Jessica said with a laugh.
The Thoroughbreds in OAR are eventually sold to loving new homes, with proceeds reinvested into the program to produce more horses. Pexian is now the pride and joy of a teenage showjumper, while the team is still putting the polish on Arrossire. Some new retired racehorses have recently been welcomed into the fold too including former Kristen Buchanan mare Oakfield Shawne, former Tracey Bartley mare Amelika and Keith Dryden's one start wonder, Halo Diablo.
"All the horses we have are showing plenty of scope and talent," Jessica said. "We are really excited about them. We're excited about the whole program. OAR has been better received than I could have ever imagined, and I am so grateful to everyone who has supported our little idea."
This story was originally published in the March issue of Racing NSW Magazine.